1048Y - CN Blocks 481X
This block has set multiple records, and won multiple championships!!
The CN Blocks 1048Y is a forged billet aluminum replacement block for the 481X engine. We have engineered many improvements into our 1048Y. First and foremost, it is a forged billet block and therefore is substantially stronger than the old cast 481X. The 1048Y is engineered to have better ring seal and maintain truer cylinders. With better ring seal you will make more power when using a 1048Y block. All five main caps are cross bolted and contribute to overall block strength. The 1048Y has been engineered with rod breakout panels to minimize block damage in the event of rod failure.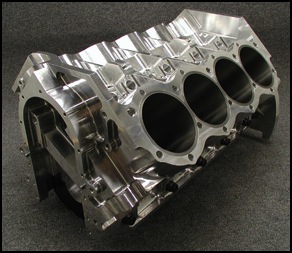 The 1048Y is available for standard tie bar lifters or Jesel dog bone lifters. The 1048Y accepts all current 481X accessories with the exception of sleeves and head studs. The head stud kit must be purchased
separately and spare sleeves are
available in semi-finished and
finished forms.




Premium CN Billet material

CNC machined at CN Blocks

Includes blocks, caps, main studs, and sleeves installed

Deck height: 10.4"

Big Block Chevrolet main sizing and spacing

All 5 aluminum main caps are cross bolted

9/16" Tool steel main studs, 1/2" side bolts

Accepts all current 481X accessories

Equal depth head studs for even clamping

Special CN Blocks sleeves for better ring seal

Improved oil system

Standard 2 1/8 cam or 65mm big cam version available